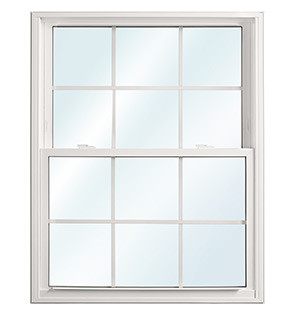 DOUBLE HUNG REPLACEMENT WINDOWS ARE OUR MOST POPULAR MODEL
Engineered using state-of-the-art multi-million dollar robotic equipment, Window Nation's double hung replacement windows are designed to make rooms more comfortable and save money by lowering energy bills.
While most companies only have one double hung window to choose from, Window Nation carries several premium models, including wood double hung windows. Every double hung window is made with full fusion, welded frames and sashes and comes with dual operating sashes that tilt in for easy cleaning, two panes of thermally insulated glass with the Warm Edge technology Spacer System by PPG, 100% PVC virgin vinyl, fiberglass screen and a lifetime manufacturer's warranty*.
We are now offering FlexScreen for select models of double hung windows - some at no additional cost! Learn more about this amazing technology now!

FlexScreen
The Benefits of Double Hung Window Replacements
Standard, on select models, is the ultra-easy, Caldwell Stainless Steel Constant Force balance system that makes operating and cleaning your windows easier than ever. This innovative new design in window operations offers you performance and durability, superior to anything on the market today. The CFBS allows the sashes to be operated with only 22 pounds of pressure, compared with 50 pounds or more with the old spiral balancers. You'll enjoy a lifetime of unparalleled window performance
as this new system exceeds a 10,000-cycle test. Rugged, quality materials, such as stainless steel, make our CFBS excellent for any climate.
Two concealed limit latches, specially designed to allow you to ventilate your home, are standard on all of our double hung windows. Most windows, depending on the width, will receive two security locks for extra protection and tightness. All windows also come standard with double and even triple weather stripping, plus up to two interlock systems to give you twice the air leakage protection.
Stop by your local Window Nation store in Cleveland, Baltimore, Washington D.C. or the Delaware Valley, to learn more about our double hung windows, or fill out our online form to receive a free pricing estimate!
*Limited lifetime warranty will vary by manufacturer and may provide exclusions. Window Nation carries window models from several manufacturers and all warranties are available upon request
STANDARD BENEFITS OF DOUBLE HUNG REPLACEMENT WINDOWS
Heavy-duty, vinyl frames with all corners fused together at high temperatures using a double stack, four-point welder for extraordinary strength and excellent insulation.

PPG's Intercept® warm-edge spacer system reduces energy loss through the glass. (Optional Super Spacer)

Automotive-type window glazing creates a super-tight seal.

Caldwell's Stainless Steel 'constant force balance' system gives you fingertip window operation.

Specially engineered anti-drift design keeps top sash in place when you operate the bottom sash.

Easy-to-operate limiting latches allow for ventilation while helping to keep your home and children safer.

Easy-pull tilt latches provide practical "tilt in" operation to make window cleaning a breeze.

Soft White vinyl frames and sashes feature an exceptionally smooth, clean surface that keeps your windows looking beautiful for decades.

One-piece sloped sill are compound-cut and fused directly into the frame.

Polypropylene poly-fin weather stripping helps make your windows airtight.

Heavy-duty cam sweep locks-with keepers mounted perpendicularly-will keep your home safer and more secure.

Sleek, low-profile frame provides an expanded viewing area.

Finely detailed millwork design on the interior master frame gives you the look of handcrafted molding.
FlexScreen - Everything You Want A Screen To Be
Tired of scratched paint, broken hardware and worst of all, bent aluminum? FlexScreen* offers a unique PVC-coated, high-performance spring steel frame that won't scratch, bend or break, no matter the conditions. Simply hold the screen, bend in the sides and slide FlexScreen into the screen track. No attachment hardware needed! It really is that easy. Don't believe us, watch this quick video.
*FlexScreen is only available on double hung windows, Georgetown and Barrington models excluded
Available Options For Double Hung Windows
ENERGY STAR® qualified Low-E glass systems, available in five different Low-E and inert gas configurations help keep your home energy bills low and comfort levels high.

26 standard color choices including white, beige, brown and wood grain laminate colors available.

'Oriel-style' design provides asymmetrical sash size configuration that gives you a larger viewing area in one of the sashes.

Contoured internal grids-in traditional colonial, distinctive brass and diamond patterns give your windows the look of divided lites. You never need to clean them because the grids are between the glass.

Beautiful stained, etched and V-grooved decorative glass patterns will give your home a touch of elegance and its own distinctive character.

Obscure glass patterns offer privacy as well as beauty while allowing in light.
DOUBLE HUNG VINYL WINDOW COLOR OPTIONS
ENERGY EFFICIENT WINDOW GLASS OPTIONS
Which of the many glass systems is right for you? Click the link below for help and learn about
each glass system so you can make the best decision.
Extreme Low-E
Ultra Triple Pane
Ultimate Triple Pane
Solarban 70XL
Super Spacer
Laminated Glass
DOUBLE HUNG REPLACEMENT WINDOW IDEA GALLERY